My computer was pretty nice today, only crashed once while putting together this entry. Someone mentioned they couldn't see my pictures last time--is the problem because I use Photobucket to store my pictures? If so, how can I change that, because I'm pretty new to blogger...as in this is my second post using blogger.
Anyways, the good thing about missing a lot of time on this blog because the internet in my house is lame is that now I know I have a lot of stuff I don't even have to show you pertaining to the master anymore. Since y'all are narrowing down on a face (and my master face looks a lot of the same with bigger ears is all), I started looking around at costuming, and I simplified a getup I found on an old Japanese painting. (sorry if some of these are huge. I think it's photoshop thats crashing my computer, and I went back and made some smaller before it crashed, and I just don't want to go back again to finish the job.)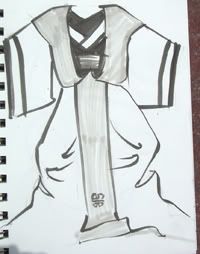 I was looking for a way to add the tiger into his clothes, so I liked the stripes down the middle and the stripes at his long sleeves. The over-tunic (or whatever you call it) reminded me of some white trash vest from the 80's, complete with rockin shoulders. He has a white trash attitude so I jumped on it. Also, for some reason I think all cats should dress like the 80's with big shoulders, maybe its because of too much thundercats and Andrew Lloyd Webber. Yet, what it deos is give the Master a belly thats a different color than the rest of him, much like a cat deos. That and the tail down the front makes...a tail.
It deosn't include showing the feet, which I thought would be an upside for the animation simplicity...but then again it has a lot of lines. Should I look at stuff more simple than this? I only took 160 a year ago, and even when I was animating myself I put too many lines on my characters. Which sucked. Anyways, I gestured it a few times so you can tell me what you think for when I go back to my costuming research.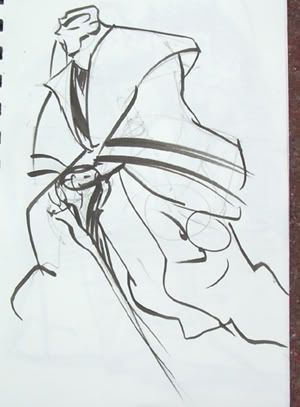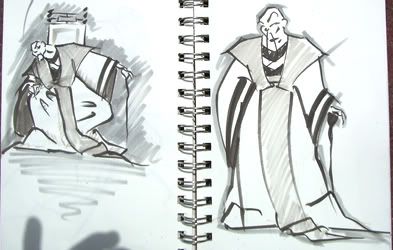 PS the right torso on there is way too high. Like a woman. In fact the entire pose is like a woman. oops.
I also have some emo mommies!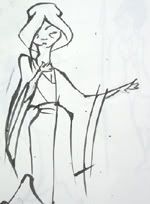 Playing around with her sadness, I put hair over one eye and felt like she shouldn't ever really look up. I played around with the skinniness and whether or not she should have bags under her eyes.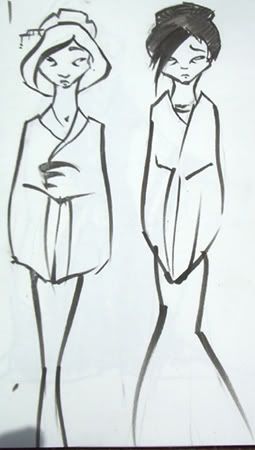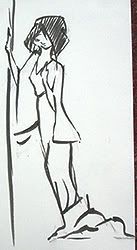 I was trying out this thing they do in asian paintings where women's dresses do these folds at the bottom and bunch up, but I don't think it worked out too hot here. I eventually stopped doing it so if you see it again I'm sorry.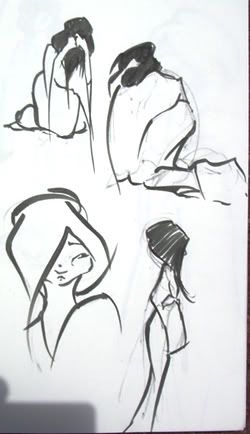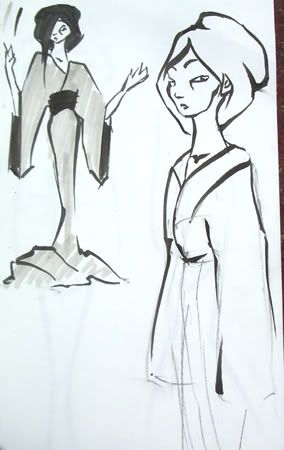 PPS explain to me blogger: how can I go back and edit an old entry if I have a nasty mispelling or something?